Catios
Would you like your cats to be able to enjoy the sights, sounds and stimulation of the outdoors? A catio can give them access to all that nature has to offer in your back yard while keeping them safe and protected. Inside an enclosure I put lots of shelves at different heights, cats love to climb and perch. Strong wire mesh or tough polyester pet-resistant screening keeps your cats safely inside but lets them see, smell and hear everything that's going on outside.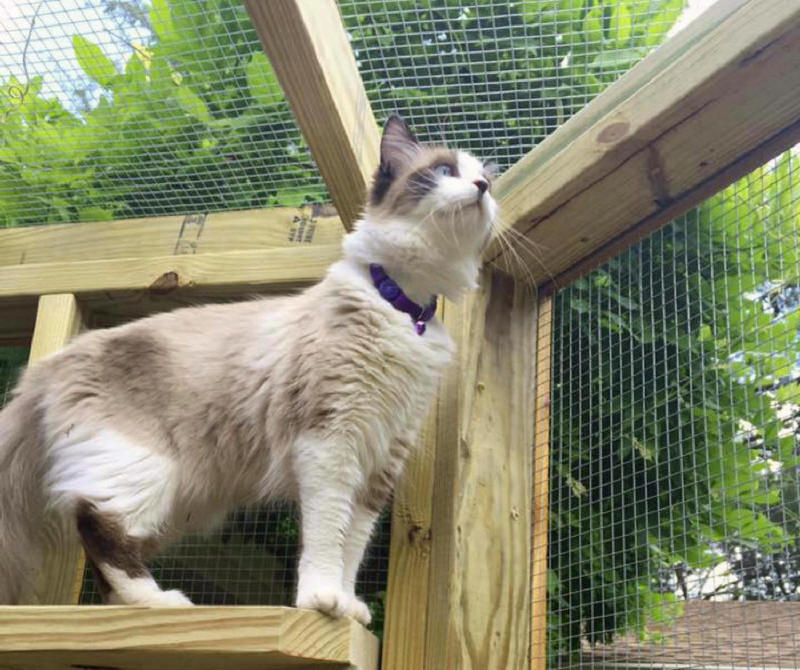 It can be open on all sides or have some solid walls to offer more protection from the weather. A catio can be a freestanding structure or can be attached to your house for easier access. Size can vary widely - it doesn't have to be huge to be a great kitty space!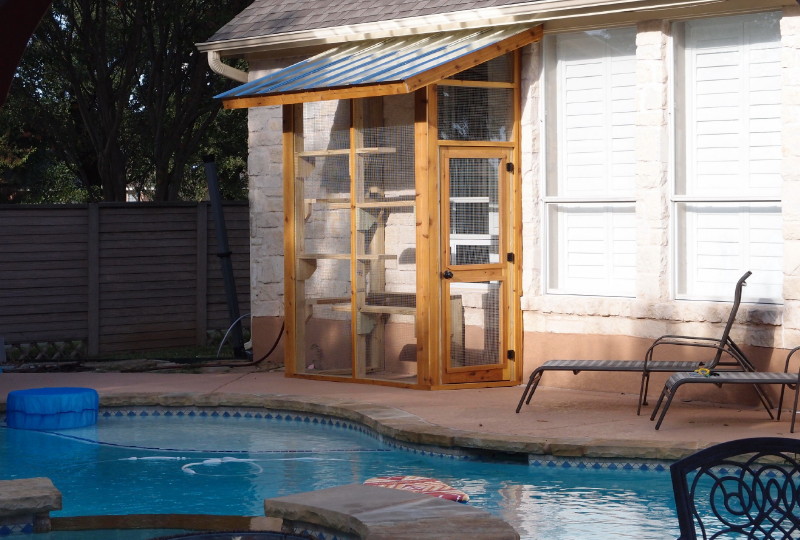 There are several types and sizes of high quality window inserts that make it easy to add a cat door.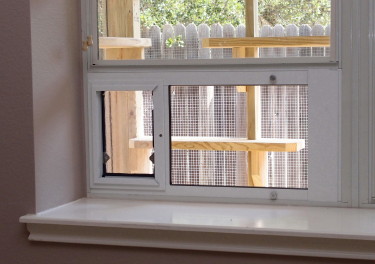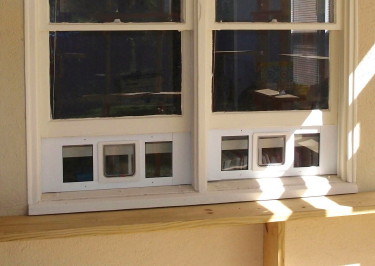 If you want to really expand your cats' world, sometimes there are some fun ways to do that!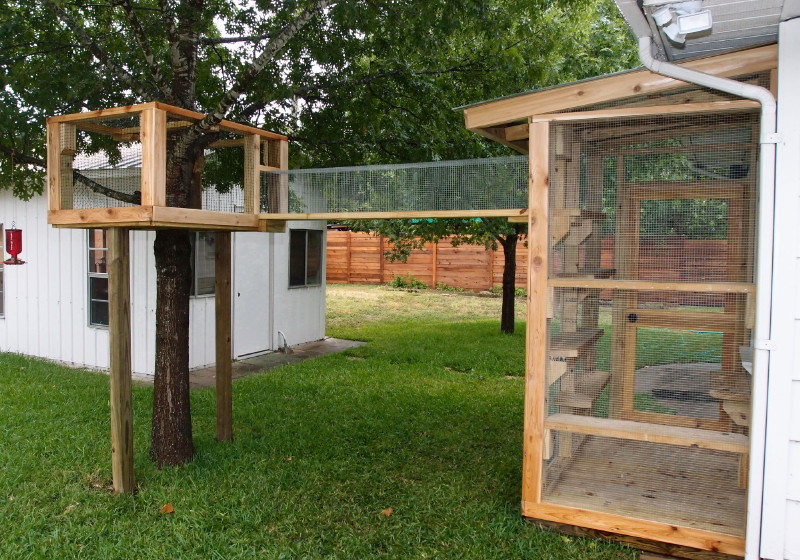 I can include some unique accents to make your catio cute and fun for you and your kitties.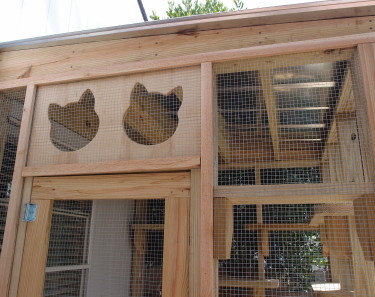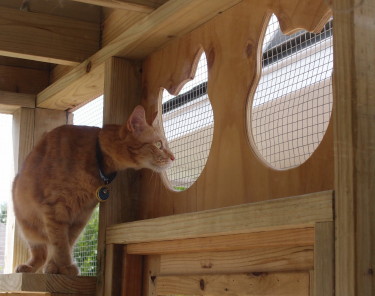 My catios are solid and built to last. I generally use pressure-treated nontoxic lumber, it's the most durable choice and holds up well for many years. If the catio isn't going onto a porch or slab I'll start with a wood deck floor. The walls are framed much like a regular house, and I build the shelves and perches using 2x10 lumber - you won't have to wonder whether they're sturdy enough for all your cats, they're sturdy enough for YOU. I use residential grade 5V galvanized metal panels for the roof, long lasting and maintenance-free. Most catios will include a screen door for your access, and I handcraft my own doors to the same high standards as the rest of the catio.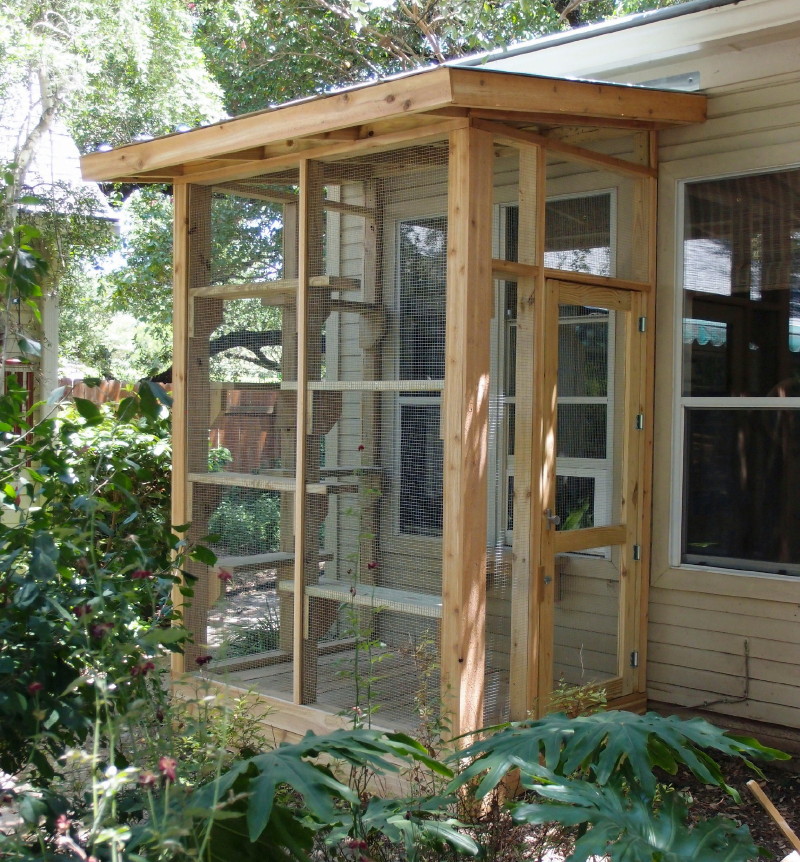 I've built catios in all shapes and sizes. If you'd like to give your cats a fun, stimulating, and safe place to enjoy the outdoors, give me a call. I'll be happy to come take a look at your home and yard and talk with you about catio possibilities. Your cats will be jumping for joy!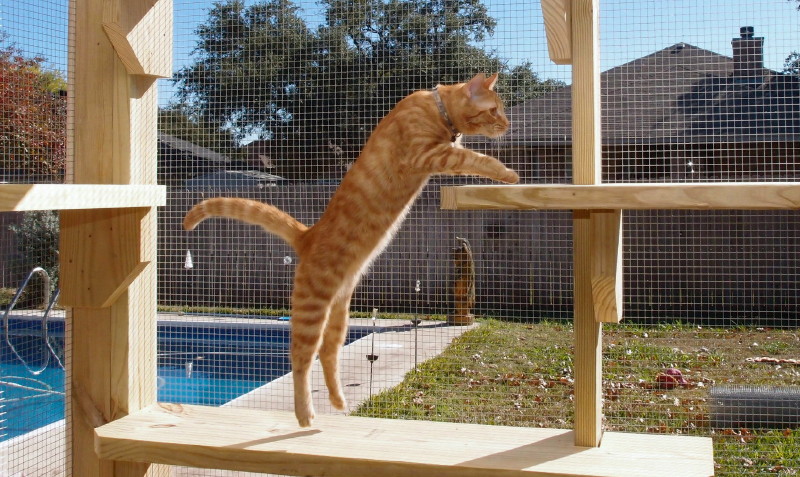 You can see photos of many of my catio projects in the Photo Gallery. And be sure to check out the Screen Porches page to find out about catios that can keep the bugs out, the cats in, and be an oasis where you and your cats can hang out and enjoy the outdoors together.