Screen Porch Catios
A catio can be a small space just to give your cats some access to the outdoors...or it can be big enough to provide a space for you and your cats to enjoy the outdoors together. The mosquitoes seem to get worse every year, so my screen porch catios are growing in popularity. I use strong, durable and pet-resistant Super Screen material for my screen porch enclosures. It stands up to cat claws, keeps insects out, and looks almost like traditional fiberglass window screen.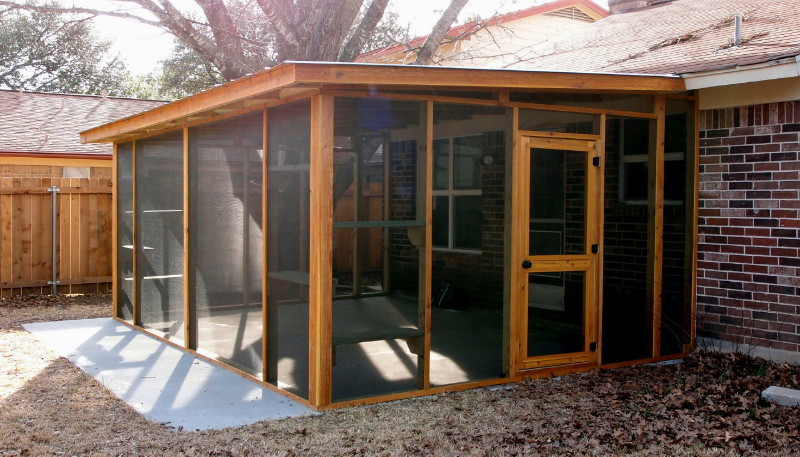 Many houses already have a covered porch that works very well to turn into a screen porch catio.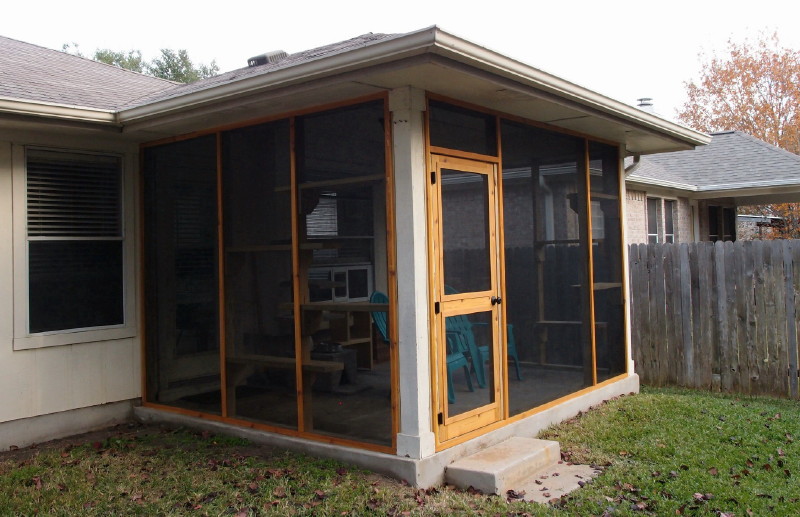 The Super Screen material looks dark from the outside, but on the inside looking out it's barely noticeable. It offers great visibility and airflow to let you enjoy the view and feel the breeze.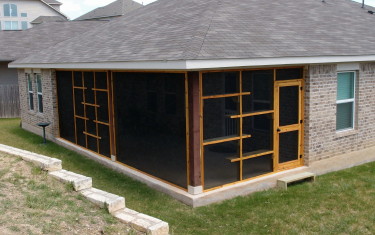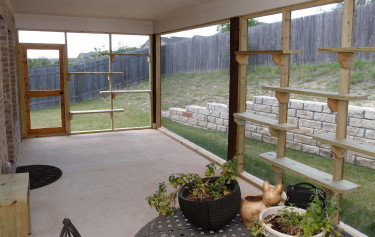 If you have a nice view and want to preserve it, I can include some perches for your cats but also screen part of it in large ceiling to floor panels that maximize the view.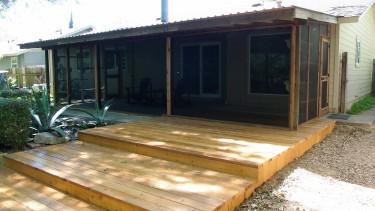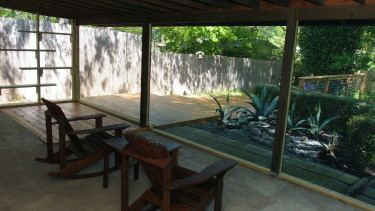 If you have both cats and dogs, a screen porch catio can be built on part of your porch leaving a path for you to be able to open the door to the house and let the dogs out into the yard without going through the catio. And although the TuffScreen material is very sturdy, if your back yard is subject to being visited by raccoons, possums, coyotes, or other wildlife I'll add a layer of welded wire hardware cloth along the bottom of the screen to provide an extra tough barrier.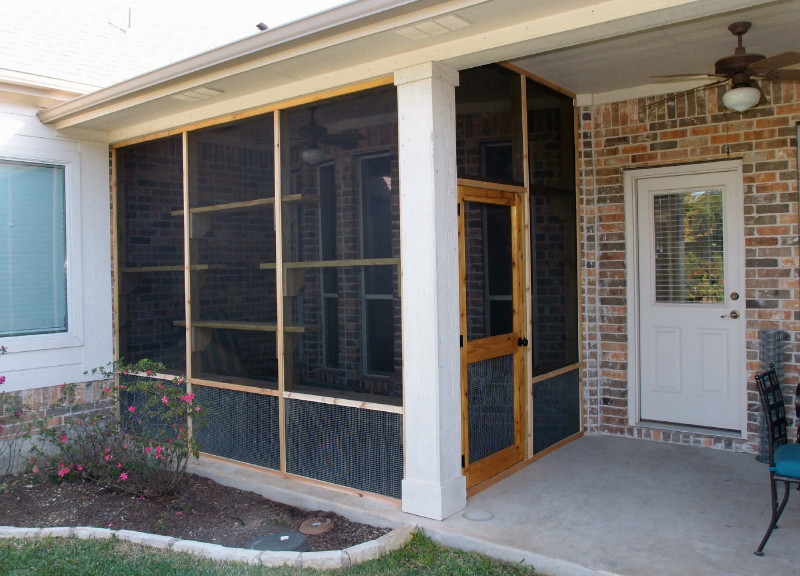 A screen porch catio feels very open and lets your cats experience everything going on outside.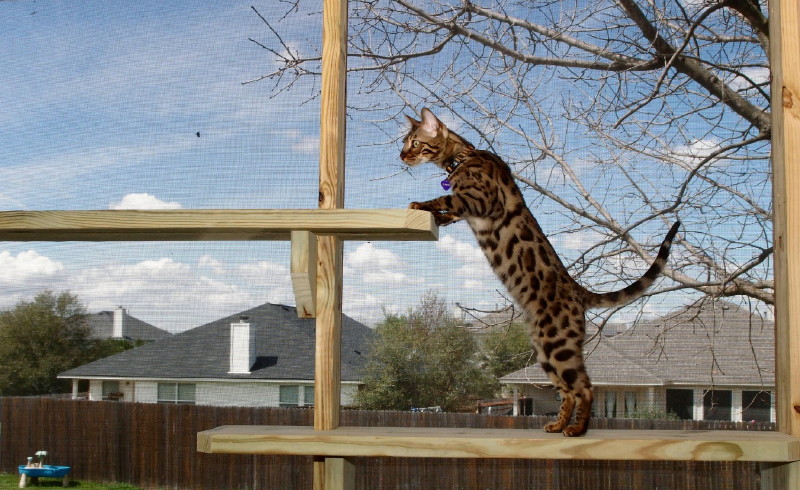 I use pressure treated lumber for all structural framing, and usually cedar for trim along the screen edges on the exterior. Most people prefer the natural look of wood, and especially on the inside it holds up best under heavy use by cats. But if you prefer a painted appearance to match the exterior of your house, or to comply with HOA requirements, I can paint the exterior trim and it will blend in very nicely, leaving the natural wood look on the inside.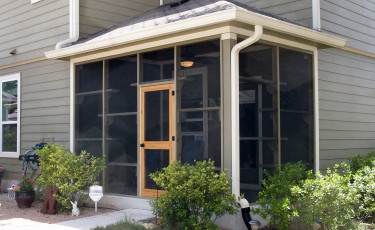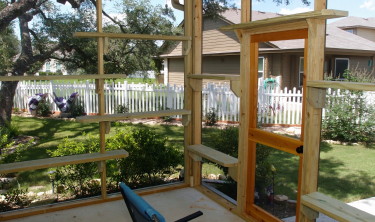 A screen porch catio can be as big as you like, and it can be a wonderful space for a lot of cats plus have plenty of room for you to relax or entertain.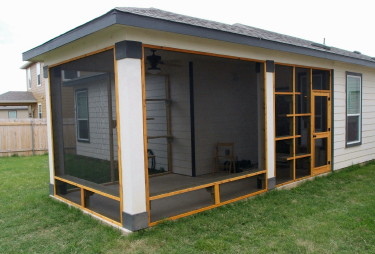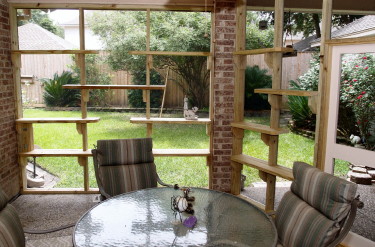 Instead of sitting on your patio or back porch swatting mosquitoes, with a screen porch catio you can enjoy the outdoors in comfort, and your cats will be able to enjoy it with you!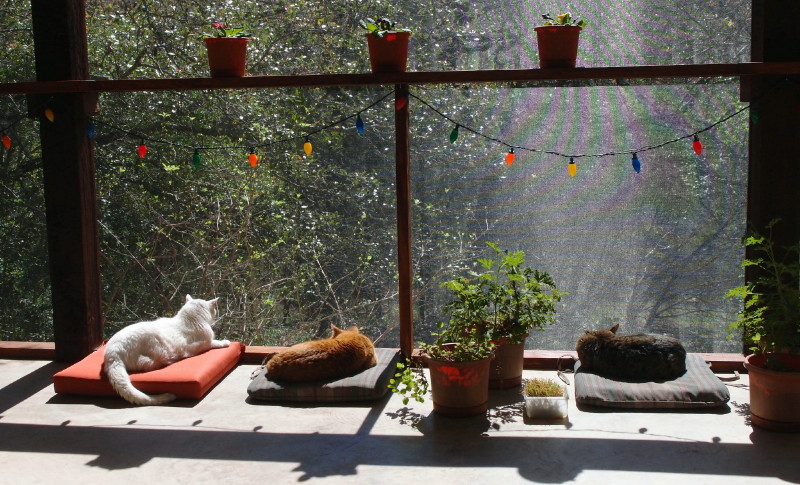 For more photos of my catio projects check out the
Photo
Gallery